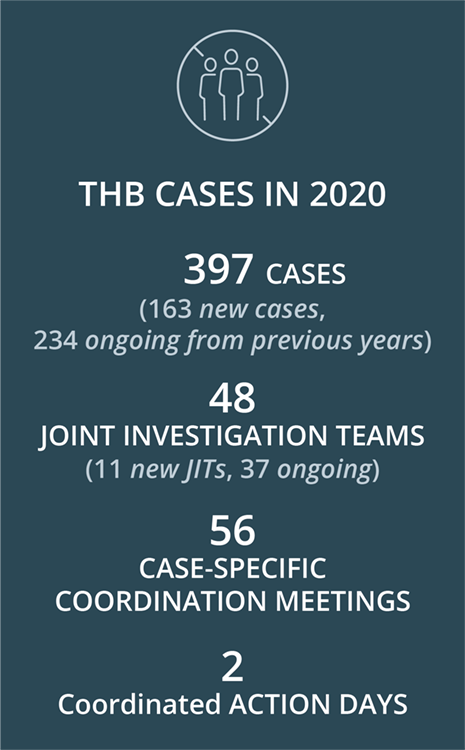 Cross-border trafficking in human beings (THB) cases require close coordination, and difficult and demanding investigations with links to one or more countries. They reveal the prominent role of OCGs that often move themselves and their victims around quickly, within and across multiple jurisdictions. When gaps in judicial cooperation appear, the victims are the ones who suffer.
In 2020, Eurojust helped to assist in successfully bringing human traffickers to justice, while identifying, rescuing and protecting the victims in nearly 400 new and ongoing cases. JITs were effective in ensuring common investigative interests and were allowed to quickly adapt to the mobility of traffickers and the changing investigative needs in each jurisdiction, division of responsibilities, participation in each other's investigations, including through secondment of specialised officers in interviewing victims.
#JusticeDone: Thanks to rapid judicial cooperation via Eurojust, nine members of a Romanian OCG were formally charged in Romania and Finland in November 2020 for human trafficking, inciting prostitution and money laundering. The suspects were arrested during an action day in May 2020 in Romania and Finland, where they allegedly ran a network for the sexual exploitation of about 10 female victims, who have been returned to safety. The Romanian and Finnish National Desks at Eurojust enabled the opening of investigations in Finland and assisted in setting up a JIT.

Judicial authorities and police in Lithuania, the United Kingdom and Ireland, with support from Eurojust and Europol, dismantled a criminal network responsible for drug trafficking, money laundering and THB, in which at least 65 people were exploited as street dealers.

Romania and the United Kingdom have been particularly active in the fight against THB and cooperated closely in [76] investigations in the past four years. During a joint action day in September 2020, judicial and law enforcement authorities in the United Kingdom and Romania arrested 21 members of an OCG that specialised in trafficking young Romanian girls into the United Kingdom, Ireland and Germany for the purpose of sexual exploitation.
'Cross-border THB investigations have never been an easy task for prosecutors and police officers. Close cooperation and coordination between the competent authorities in different jurisdictions and the use of the support tools available at EU level are essential in conducting successful THB investigations.'
Daniela Buruiană, National Member of Eurojust for Romania until 31 December 2020