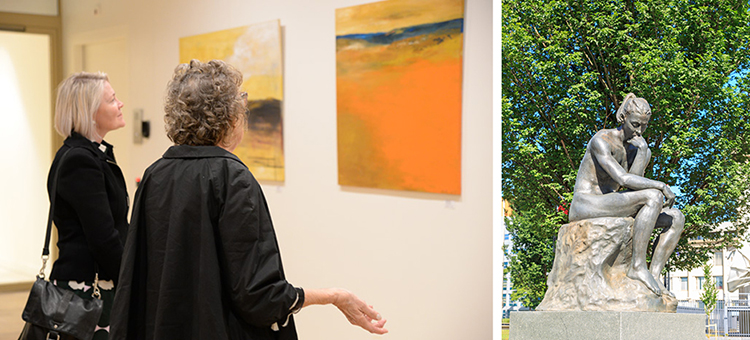 In front of the Eurojust building, on Johan de Wittlaan, visitors and passers-by encounter a large bronze statue, called Reflection, created for Eurojust by Spanish sculptor Fernando Sanchez Castillo. It was unveiled in May 2018. According to the artist, the statue 'symbolises the essence of reflection in the context of supporting necessary action, and thus mirroring the aim of Eurojust. Reflection (...) is how we get to know ourselves.'
Two other artworks found inside the building were also created especially for Eurojust:
A large print, called Inside Out, is made in four layers: chalk, pencil, pen and photo montage. It was created by Mecanoo, the Dutch architectural firm that was responsible for the design and realisation of the building. The work is based on the glass fragments found on the façade of the building.
Jeroen Melkert, a Dutch sculptor, created Onthechting (Detachment) for Eurojust. It was a gift from Twynstra Gudde, one of the contractors involved in the construction of the building. It portrays a distorted human face in stone. The artist said of the inspiration for this artwork: 'Eurojust's goal to expose and the criminal's objective to confuse'.
Art meets Justice at Eurojust
As part of an already established tradition, the country that holds the rotating Presidency of the Council of the European Union has the opportunity to display selected artwork in the lobby and on public floors.
Watch the artwork of earlier Presidencies in the following videos:
French Presidency of the Council of the EU 2022
Slovenian Presidency of the Council of the EU 2021
German Presidency of the Council of the EU 2020
Croatian Presidency of the Council of the EU 2020