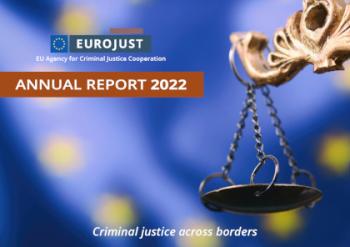 According to the Eurojust Regulation, the Administrative Director prepares the Annual Report and presents it to the Executive Board for review. The College adopts the Annual Report by 2/3 majority and approves its transmission to the European Parliament, the Council, the European Commission and national parliaments in EU Member States, which may present observations and conclusions.
Once a year, the European Parliament and national parliaments engage in a joint evaluation of the activities of Eurojust. In an interparliamentary committee meeting attended by the President of Eurojust, they discuss the Agency's current activities and receive the Annual Report or other key documents.
Online version of the Eurojust Annual Report 2022
The online version allows you to explore the report interactively in any browser, as well as download and print the data.
Browse online version