The EU policy cycle EMPACT (European Multidisciplinary Platform Against Criminal Threats) is a security initiative driven by EU Member States to identify, prioritise and address threats posed by organised and serious international crime. EMPACT brings together a broad range of multidisciplinary professionals from Member States and third countries to take concrete actions against criminal networks. Participants include law enforcement authorities, the judiciary, EU agencies, customs and tax offices and private partners. With EMPACT, every year over 200 operational actions are carried out in targeted key crime areas.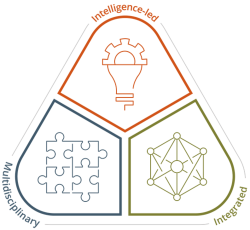 By building on knowledge and expertise from a diverse range of partners, various insights are taken on board, facilitating a multifaceted approach. For instance, in operations against human trafficking, the expertise of specialist non-governmental organisations can play an important role. Depending on assessments, EMPACT can have a preventive or repressive character.
By improving cross-border cooperation, EMPACT helps build trust between partners as they gain familiarity with each other and their specific fields of expertise. This leads to continuity in crime fighting between participants and between countries. Due to its long-term approach, EMPACT provides insights into patterns in certain crime areas. It also furthers knowledge on the persistence and backgrounds of certain criminal phenomena, feeding into the intelligence-led principle of the platform.
Eurojust webinar 'Prosecuting with EMPACT'
The importance of EMPACT in the security and justice chain
Boštjan Škrlec,Vice-President of Eurojust and National Member for Slovenia
How can prosecutors access EMPACT opportunities?
Zuzana Líšková, Head of Team EMPACT Support at Europol
EMPACT of the future – the flagship EU instrument for cooperation to fight organised and serious international crime
Antoine Billard, Policy Officer, DG HOME, European Commission