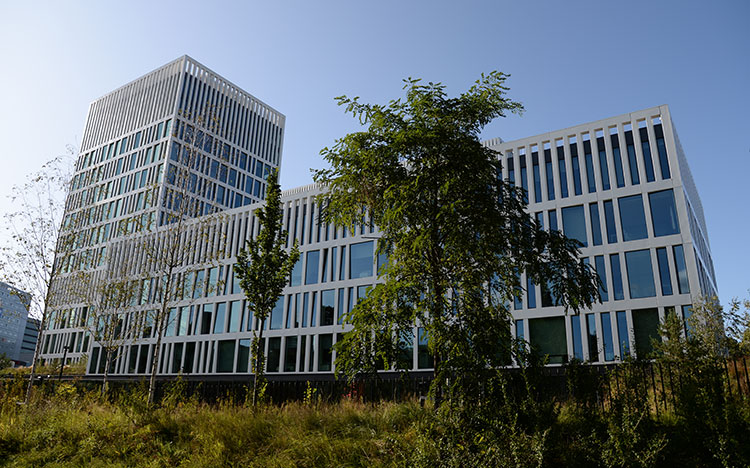 The Eurojust building is a purpose-built facility in the heart of the International Zone in The Hague, the Netherlands.
Semi-submerged in an undulating dune landscape, the building was designed by a team of Mecanoo Architects, Royal HaskoningDHV and DS Landscape Architects and developed together with the Central Government Real Estate Agency, the Ministry of Justice and Security and the municipality of The Hague. It opened its doors in July 2017. Three months later, in October 2017, King Willem-Alexander attended the official opening ceremony for Eurojust's new premises.
The welcoming and secure building measures 18 550 square metres and can accommodate up to 400 staff members. It comprises a high-rise and low-rise building, connected by a large central atrium, and was designed to foster discussions and knowledge-sharing, supporting Eurojust's mission to develop and enhance judicial cooperation.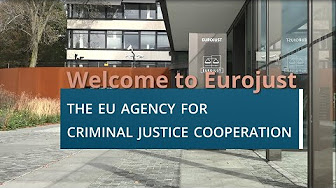 Eurojust Virtual Tour
Join us on a Virtual Tour of our premises and see where we are working – and, more importantly, how we do so.
View
The lower floors of the building include a number of private meeting rooms built to accommodate confidential discussions between National Members and outside practitioners, and a dedicated operational room, in which participating authorities have all the facilities they need to effectively share information and define strategies during large-scale multilateral joint action days (coordination centres). The rooms offer secure, state-of-the-art IT systems as well as facilities for simultaneous interpretation.
The modern, efficient and transparent exterior of the Eurojust building includes a light façade of composite elements with tilted and angled panes of glass, designed to provide as much light as possible to each of the floors. The sloping landscape garden surrounding the building provides a secure environment for the occupants and harmonises with the green urban surroundings of The Hague: achieving security through design.
The Eurojust building is owned by the Dutch government and rented to Eurojust.