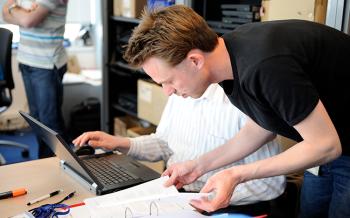 Working at Eurojust is stimulating, challenging and highly rewarding. Eurojust's staff members come to work each day with a strong sense of purpose, knowing their work helps to create a safer Europe for its citizens.
By joining Eurojust's team in The Hague, you will be part of an engaging, collegial and diverse environment, working closely with people from different backgrounds and nationalities. Eurojust's modern, custom-built premises in the heart of The Hague's International Zone are designed to encourage cooperation and knowledge sharing, providing bright communal spaces, where people can get together and exchange ideas. While we enjoy working together on our premises, Eurojust also offers hybrid working, enabling staff to split their time between work at the office and working remotely, facilitating work-life balance.
In the following tabs, discover what makes working for Eurojust special, which benefits we offer and how pleasant life can be in The Hague.