In 2021, Eurojust provided legal, financial and/or operational support to 254 JITs. 72 JITs were established in 2021, and 182 were ongoing from previous years. The JITs active in 2021 focused on a wide range of crime types, predominantly swindling and fraud, money laundering, drug trafficking and trafficking in human beings.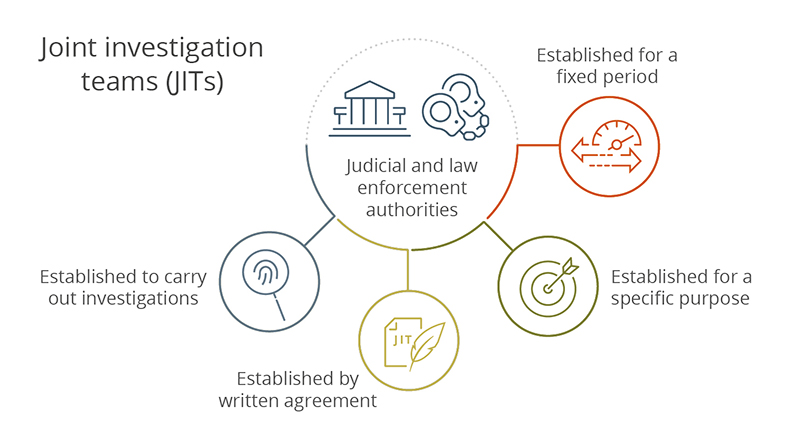 JIT funding
In 2021, 104 of the active JITs were also funded by Eurojust, of which 42 JITs were established in 2021. The funding covered costs for travel and accommodation, interpretation and translation, and the transfer of items seized during JIT operations. As part of its JIT funding activities, Eurojust also continued to lend equipment to JITs, such as mobile telephones, laptops, mobile printers and scanners.
The budget available for JIT funding in 2021 was EUR 1.16 million to cover the funding needs still affected by the pandemic. In 2021, 182 funding applications were awarded, with no increase compared to 2020 due to the pandemic.
To ensure the responsiveness of the JITs funding programme to practitioners' needs, Eurojust introduced changes to the funding mechanism throughout 2021, including new cost categories and funding without calls for proposals.
New cost categories for JITs funding
Eurojust extended its financial support to cover new types of costs, including:
specialist expertise;
purchase of low-value equipment (hardware, software); and
travel, accommodation or interpretation costs for victims and witnesses.
New scheme for urgent JIT funding
Funding without calls for proposals aims to provide faster, targeted short-term grants to urgent and/or unforeseen JIT operational activities, falling outside the scope of the regular Eurojust JIT funding scheme involving calls for proposals. Applications under this new funding scheme may be submitted anytime during the year and are processed quickly. This funding option addresses a need for increased flexibility in the support to cross-border investigations.
The new funding scheme was used seven times in 2021. Funds in the amount of EUR 32 610 were awarded and spent on various costs related to urgent operational actions within cross-border investigations.