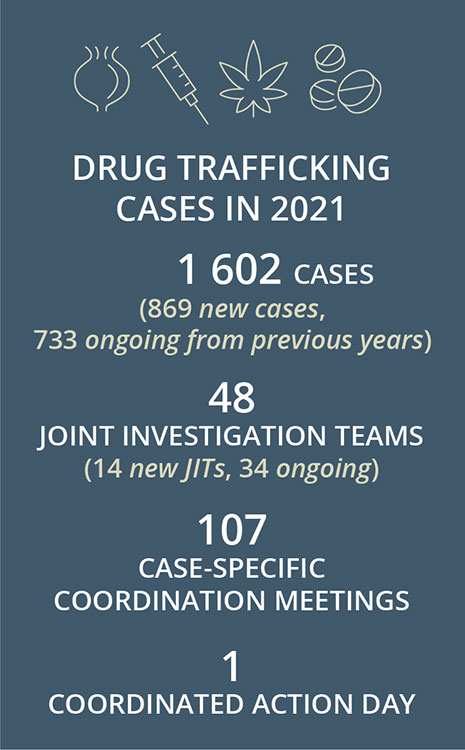 Illicit drug trafficking across the European Union is growing sharply and remains the largest criminal market in the European Union, with an estimated value of at least EUR 30 billion per year. The recently adopted EU Strategy to Tackle Organised Crime recognises the need to step up efforts against drug trafficking. To address this need, the Council EU Drugs Strategy 2021-2025 was published in March 2021, followed by the EU Drugs Action Plan 2021-2025, outlining the actions to be implemented to achieve the Strategy's priorities.
 Overview of cases by crime type in 2021
11.1. Latest developments
The stark rise in the production of synthetic drugs poses increasing challenges for prosecutors across Europe. By rapidly changing the composition of chemicals used for these drugs, or creating new substances, producers try to exploit legal gaps, often making it difficult to prove they are deliberately selling illegal drugs or substances. The Eurojust Report on Drug Trafficking, published in April 2021, looks at these challenges and analyses recent complex cross-border drug trafficking cases referred to the Agency. Between 2016 and 2021, the total number of drug trafficking cases opened at Eurojust has more than tripled, now totalling 869, with synthetic drugs and new psychoactive substances (NPS) making up around one-third of them. The report provides recommendations on increasing financial investigations, asset recovery and judicial cooperation, including with third countries.
 Drug trafficking continues to rise and is a major challenge for our societies. Eurojust is fully committed to tackling this kind of "octopus"-style crime, which threatens both public health and that of individual citizens, our security and the economic fabric of society, due to the enormous proceeds of these criminal activities. We stand ready to offer Member States our support to counter criminal networks, international brokers and professional money launderers.