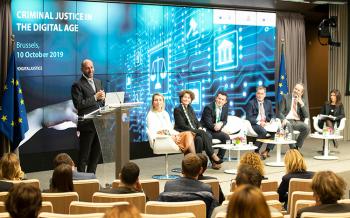 Eurojust first proposed the concept of Digital Criminal Justice (DCJ) to the Council of the European Union in December 2018. The initiative aims at creating an EU-wide digital platform to enable Eurojust and the wider European judicial community to quickly and efficiently interact and exchange critical information and evidence during criminal investigations. Eurojust supported the European Commission on a study to assess the viability and potential implementation of an EU-wide Digital Criminal Justice platform. The study was completed in June 2020.
Throughout 2020, Eurojust worked closely with the European Commission and helped identify several areas in which digital tools could give all actors in the EU security chain the opportunity to keep up with the fast pace of technological development and the rapidly evolving threat landscape. In December 2020, the Commission tabled comprehensive proposals to further enhance the digitalisation of justice systems. Several elements in the package pave the way for a major leap forward in making judicial cooperation and information exchange in criminal investigations and proceedings across the EU 'digital-proof' for the challenges of the 21st century:
Modernisation of Eurojust's Case Management System;
Creation of a task force to improve possibilities for data exchange and hit/no-hit connections between Eurojust and its partners, to help identify links between ongoing investigations and prosecutions;
New legislative initiatives on:

digital information exchange on cross-border terrorism cases, including further improvement of Eurojust's Counter-Terrorism Register and Eurojust's data processing framework;
the establishment of a joint investigation teams collaboration platform.