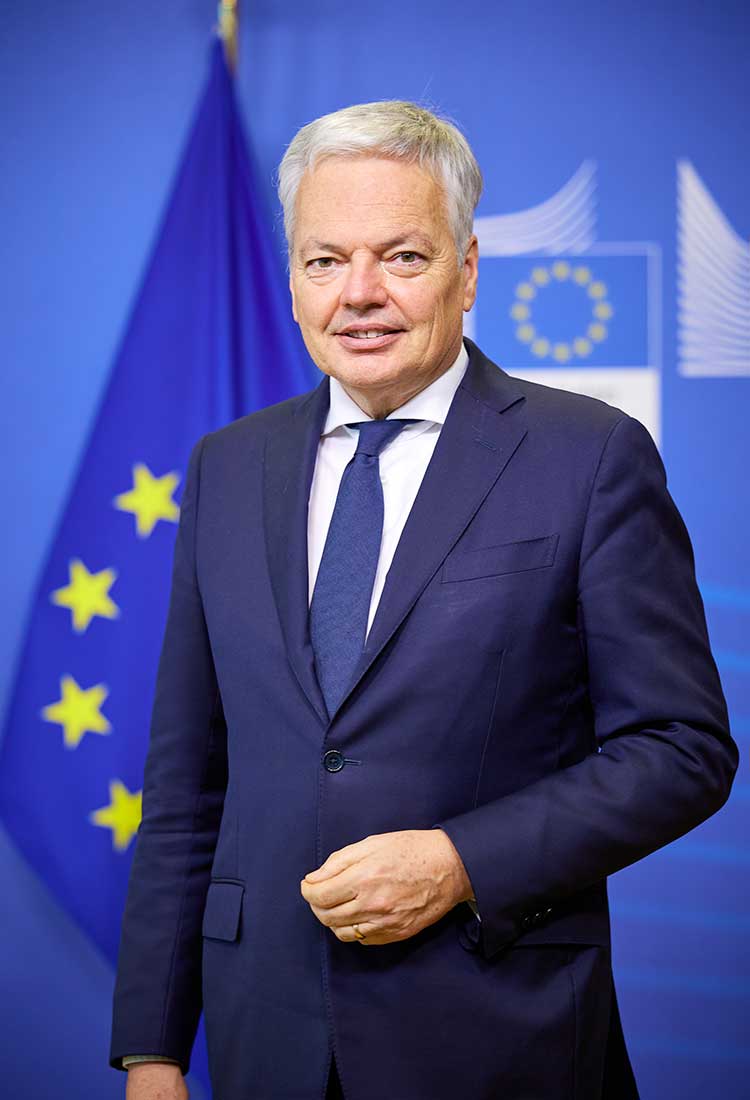 Over the past 20 years, Eurojust has been on a steady upward trajectory. The following pages tell the story of an ugly duckling and its growth into a white swan. It is a story that begins with a meeting of prosecutors around a table in the Council premises in Brussels and ends as a fully fledged European agency, nestled among the great institutions of law and justice in The Hague.
The Tampere European Council of October 1999 set Eurojust along its current path. It was here that EU leaders, determined to reinforce the fight against serious crime, agreed to create a new 'unit' composed of 'national prosecutors, magistrates, or police officers of equivalent competence, detached from each Member State'. It was to be tasked with facilitating the proper coordination of national prosecuting authorities and of supporting criminal investigations in organised crime cases. Eurojust has more than lived up to this mission and quickly outgrew the unit.
As is the case for any organisation, establishing Eurojust was not without teething problems. It took six years to build up a staff, offices and the necessary equipment and computers. It took another year before its meeting rooms could properly function with interpretation facilities. But Eurojust was already proving its worth. The coordination following the attempted bombings of the US Embassy in Paris and the Kleine-Brogel military base in Belgium underlined this point very early on. This was followed by more intensive coordination, for example between Belgium, Germany, Greece, Italy, Spain, the Netherlands and the United Kingdom in the case concerning letter bombs sent to EU institutions in 2004. Any logistical kinks were soon ironed out and, in the years since, it has frequently been heard that national prosecution services can no longer do their job effectively without Eurojust's support.
In the first 10 years, Eurojust successfully met many more challenges – an enlarging EU and the establishment of numerous cooperation agreements with third countries, international organisations and EU bodies and agencies. In parallel, its operational capabilities were strengthened, in response to the increase in cross-border crime across Europe. The next decade saw an unprecedented development in the fight against crime at the EU level, with the European Public Prosecutor's Office established to specifically tackle crime against the EU budget, today worth over EUR 460 million each year. Eurojust has been key in this partnership, from its inception to the cooperation today. No matter the trials and tribulations it has faced over the past 20 years, today Eurojust remains the number one hub for judicial cooperation in the European Union.
Its growth reflects the increasing demand in the European Union and beyond for the support this organisation can provide. In 2021 alone, Eurojust coordinated the takedown of a migrant smuggling network, shut down an international malware network and helped secure the conviction of a Syrian official sentenced for prison torture, in addition to handling over
10 000 other cases, thereby contributing to EUR 2.8 billion in criminal assets being seized or frozen and EUR 7 billion worth of drugs being seized.
The case, which led to the imprisonment of a former member of the Syrian intelligence service, is also a landmark case because it demonstrated Eurojust's capacity to fight impunity and why Eurojust's home in The Hague is more than purely symbolic. Here, I want to pay tribute to the Genocide Network Secretariat at Eurojust, which started monitoring the situation in Syria in 2012 and is the most valuable resource in Europe's efforts to ensure that core international crimes – genocide, war crimes and crimes against humanity – do not go unpunished.
Some of Eurojust's recent cases have also kept Europeans safe in the midst of a major pandemic. One online scam had been duping unwitting customers all over Europe out of personal protective equipment, such as face masks, which they paid for but never received. The scammers defrauded companies in at least 20 countries. It is thanks to Eurojust that the operation was dismantled, that the evidence was collected and the culprits were caught.
This is a job that does not come in a flashy uniform with wailing sirens, (although it still features frequently in the work of international crime novelists). Eurojust's work takes place behind the scenes, ensuring that the solid evidence needed to put criminals behind bars is not lost in the cracks between borders. It is a job that is undertaken in Eurojust's coordination centres by judicial authorities from multiple countries ensuring their operations take place at exactly the same time. To effectively fight cross-border crime today, you need far more than police work. You need judicial coordination so that the medusa's head of a criminal network can be sliced off at once to ensure the snakes cannot emerge elsewhere.
With a workload that is only increasing – the number of cases has almost doubled during the past four years alone – this is also a story of an organisation that has, from the very beginning, been over-delivering. I want to thank Eurojust and its staff for their dedication over the past two decades. I know how heavily the European Commission relies on Eurojust today and how intense our cooperation is. Moreover, the Commission has recently adopted two initiatives to enhance the efficiency of the work led by Eurojust: the new Counter-Terrorism Register and the establishment of an online platform to improve cooperation between joint investigation teams. Eurojust's future is digital and so must be judicial cooperation. We must all embrace this change. Eurojust has still managed to mature in the meantime as the reality of cross-border crime has increased. Following the 2015 terrorist attacks in Paris and Saint-Denis, the cross-border dimension of terrorism became crystal clear, and France, Germany, Spain, Belgium, Italy, Luxembourg and the Netherlands responded by setting up a register at Eurojust to keep all the judicial information on terrorist activities and networks in one place to determine where coordination was needed. This is now permanent with the Counter-Terrorism Register and absolutely vital given the international and multilateral dimension of the fight against terrorism and the importance of information sharing.
Eurojust not only ensures that cases involving multiple jurisdictions are prosecuted, but it also ensures that they are prosecuted in the right place. Since the very beginning of its existence, national authorities have been operating on its advice. The case following the sinking of the Prestige oil tanker in 2002 which caused a huge amount of environmental damage is a good example of this. Eurojust was heavily involved in the deliberations over where it was best to prosecute. There is still a gap that Eurojust can fill when it comes to fighting cross-border environmental crime. Today, the number of cross-border environmental crime cases referred to Eurojust constitutes less than 1% of the Agency's total casework, which seems insufficient given that Interpol and the UN Environment Programme estimate environmental crime to be the fourth-largest criminal activity in the world and growing at a rate of between 5% and 7% per year. With a new proposal for a Directive on EU-wide environmental crimes by the Commission in 2021, I can see a major role developing for Eurojust in ensuring environmental protection in Europe.
Online as much as offline, the skills at Eurojust know no boundaries. This has been clear in the support Eurojust provided in cases that have stopped the most heinous online crimes, ranging from online child sex abuse in Operation Koala to cyberattacks that paralysed entire countries, including Ukraine. In turn, the need for Eurojust's skills has clearly expanded beyond the European Union's borders. The number of joint investigation teams with third countries is growing rapidly, and it has become a very successful tool to speed up criminal investigations by facilitating the issuance of more than 500 European Arrest Warrants and more than 4,300 European Investigation Orders in 2021 alone. The European Commission has now been given a mandate to improve Eurojust's international outreach even further and in the coming year, bilateral cooperation agreements between Eurojust and 13 third countries will be negotiated.
What does a day in the life of Eurojust look like? For many years now, Eurojust has been opening its doors to the public, giving citizens a glimpse into how judicial cooperation works in practice to address the radically different challenges presented by cross-border crime, from terrorism and trafficking in human beings to economic and cybercrime. As President of Eurojust, Ladislav Hamran, recently explained to visitors, organised crime tries to spread its activities to different jurisdictions, and that is when Eurojust steps in. The Agency always has to focus on the bigger picture to connect the dots between jurisdictions and facilitate communication, the sharing of evidence, and the coordination of investigations.
There are so many different legal systems and different laws in every European country. As one national prosecutor said, 'It is impossible to learn everything about everyone, let alone about your own system!' Having Eurojust saves so much time because the staff are able to connect national prosecutors and judges with all the people they need to do their investigation in other countries and every coordination meeting ensures that national authorities avoid duplication or treading on each other's toes. Eurojust has done this time and again – sometimes only days after an event such as the crash of Flight MH17 over Ukraine in 2014, and sometimes only hours after, such was the case with the discovery of the bodies of 71 migrants in an abandoned truck in Austria in 2015.
At the end of the day, and regardless of the national particularities of each country, everyone is working towards the same goal: to fight crime in Europe. This was perfectly put by one Eurojust staffer who said: 'This is the first working place in my whole career where I feel not only accepted or tolerated but very welcomed. When I came into the building and met my colleagues from all over Europe, they gave me the impression that I belong to them – I am part of the Eurojust family.' This confirms my own impression. Since I took up my job as a Commissioner for Justice, I have seen just how valuable this organisation is and how it fits in the EU family.
As Eurojust celebrates 20 years on the job, I am delighted the European Commission was able to negotiate the biggest budget in its history – EUR 350 million until 2027. We have come a long way from an organisation that began as a small meeting of prosecutors around a table in Brussels to what we see in practice today. There will always be a need for the outstanding service Eurojust does for the safety of Europe, and I look forward to seeing what will be achieved in the years to come.