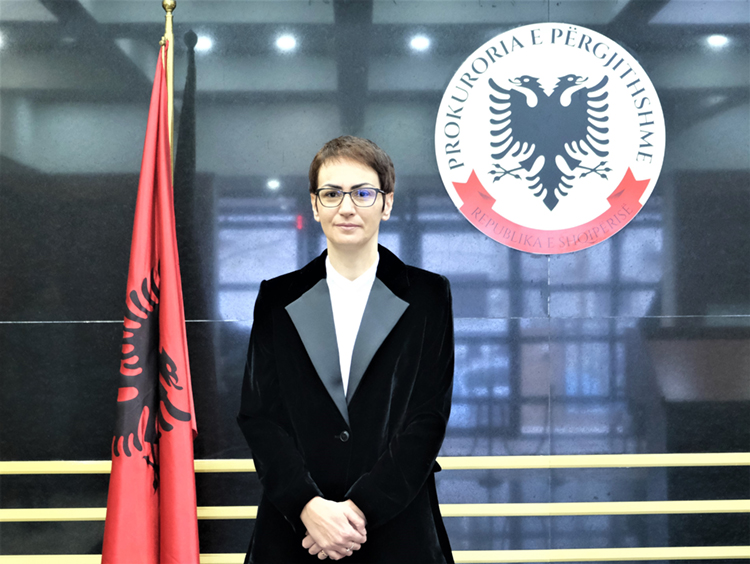 Ms Fatjona Memcaj has started work as first Liaison Prosecutor (LP) for Albania at Eurojust. Her new role at the European Union Agency for Criminal Justice Cooperation is the direct result of the cooperation agreement between Eurojust and Albania, which entered into force last year. Albania is the 10th third country to have an LP at Eurojust. Ms Memcaj (44) has wide experience in the prosecution of financial crime and corruption and has been responsible for international judicial cooperation in Albania.
Prior to starting at Eurojust, from 2013 until the end of 2020 Ms Memcaj was Appeal Court Prosecutor at the dedicated prosecution office of the Tirana Appeal Court. In this capacity, she was responsible for cases requiring Mutual Legal Assistance, in particular extradition requests. She combined this function with the role of lecturer at various Albanian universities and the national School of Magistrates.
The new LP for Albania graduated from the above School of Magistrates in 2002 and became a prosecutor at the Tirana District Prosecution Office. In 2006, she joined their Special Investigation Unit as one of the first prosecutors, dealing with financial offences and corruption. In 2008, she became head of the Legal Unit at the office of the Albanian President, before joining the Appeal Court in 2013. Ms Memcaj has a PhD in law from Middlesex University London.
Cross-border judicial cooperation between Albania and Eurojust has risen greatly in the last five years, by over 40 percent. Between 2016 and 2020, a total of 84 cases with Albanian involvement were registered at Eurojust. Albania has already participated in seven joint investigation teams (JIT), supported by Eurojust. Eurojust has concluded agreements with 12 third countries: four in the Western Balkans (Albania, Montenegro, North Macedonia and Serbia) and Georgia, Iceland, Liechtenstein, Moldova, Norway, Switzerland, Ukraine and the USA. In total, ten third countries now have LPs at Eurojust.