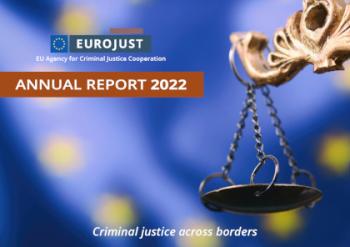 While Eurojust's work in 2022 heavily focused on supporting Member States' and partners' judicial response to the war in Ukraine, the Agency continued to fully deliver on its mandate to fight all serious cross-border crimes.
Eurojust contributed to the arrest of more than 4 000 suspects, the seizure and or freezing of criminal assets worth almost EUR 3 billion and the seizure of drugs worth almost EUR 12 billion.
Reflecting the growing scale of the challenge, the cases dealt with by the Agency in 2022 involved more than triple the number of victims than in 2021. Moreover, compared to the previous year, more than double the number of cases used Eurojust's support in drafting and executing European Arrest Warrants.
These impressive operational results could not have been possible without the transnational cooperation between judicial authorities facilitated by Eurojust, in close cooperation with all actors in the criminal justice chain.
Online version of the Eurojust Annual Report 2022
The online version allows you to explore the report interactively in any browser, as well as download and print the data.
Browse online version