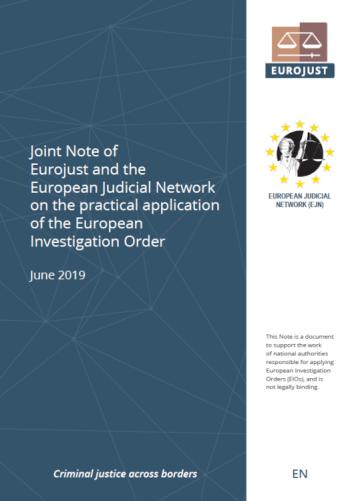 The objective of this document is to provide guidance to practitioners on the practical application of Directive 2014/41/EU of 3 April 2014 regarding the European Investigation Order (EIO) in criminal matters (the 'European Investigation Order Directive' or 'EIO DIR')1. It is a compilation of information, highlighting issues/ challenges, possible solutions and best practice, as gathered by Eurojust and the European Judicial Network (EJN) from meetings, documents and casework.
This Joint Note addresses identified issues related to the four main phases of the lifecycle of an EIO (the issuing phase, the transmission phase, the recognition phase and the execution phase), as well as issues related to the scope of the EIO DIR and its use vis-àvis other co-existing legal instruments, the competent authorities, the content, form and language of the EIO and the use of some specific investigative measures.
This Joint Note is considered a living document, and Eurojust and the EJN intend to continue to update it in the future.