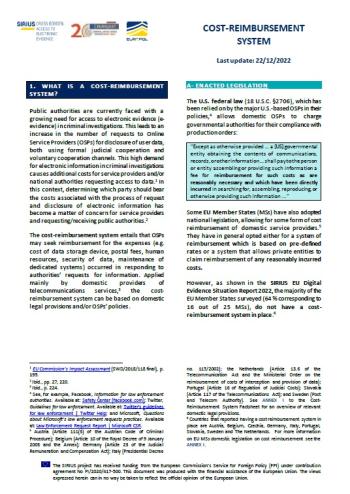 The cost-reimbursement system entails that Service Providers (SPs) may seek reimbursement for the expenses incurred in responding to requests for information from authorities (e.g. cost of data storage device, postal fees, human resources, security of data, maintenance of dedicated systems). The cost-reimbursement system can be based on domestic legal provisions and/or SPs' policies.
This document provides information on the cost-reimbursement system, including an analysis of the applicable (domestic and international) legal framework and the different cost-reimbursement policies of various SPs. It also includes excerpts from the legislation of some EU Member States regarding the possibility for SPs to request the cost reimbursement from requesting authorities.
The document was prepared within the framework of the SIRIUS Project. The SIRIUS Project has received funding from the European Commission's Service for Foreign Policy Instruments under Contribution Agreement No PI/2020/417-500.