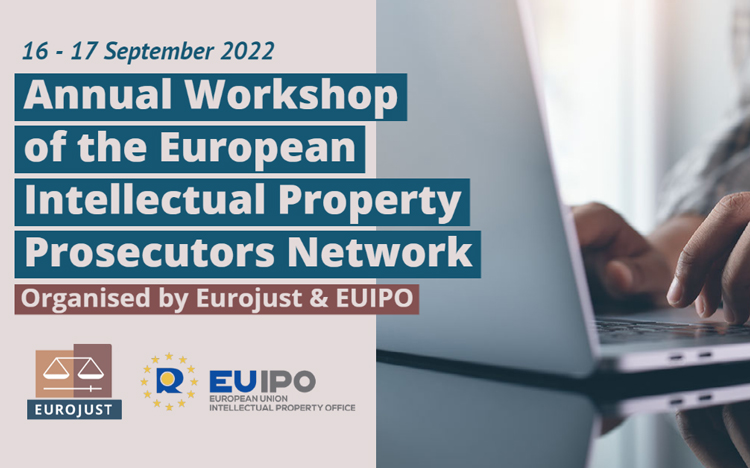 Eurojust and the European Union Intellectual Property Office (EUIPO) held the annual workshop of the European Intellectual Property Prosecutors Network (EIPPN) at the Agency's premises in The Hague, the Netherlands.
On the occasion of the event, Eurojust has published the judicial libraries catalogue and a flyer on identifying illegal Internet Protocol Television (IPTV) services.
Over 70 prosecutors from the EU and neighbouring countries who deal with intellectual property criminal investigations and prosecutions participated in the meeting. This year's event focused on collaborating with private sector intermediaries. Participants also discussed other important aspects, such as international judicial cooperation and IP investigations and prosecutions in practice, public-private sector cooperation and the perspective of rights holders.
To mark this event, Eurojust published today a judicial libraries catalogue, which allows practitioners and legal experts quick access to national case law and relevant legal documents across all EU Member States and 13 affiliated third countries with which Eurojust has signed cooperation agreements.
Eurojust simultaneously published a flyer with tips for users to identify illegal IPTV services. Illegal IPTV has become a major problem in the IP environment, causing significant damage to rights holders and users (through loss of personal data and malware). The profits generated through this illegal activity can also help to fuel other forms of organised crime, including fraud, corruption and drug trafficking.
The two publications are part of the Intellectual Property Crime Project, funded by EUIPO. The project aims to enhance the judicial response to IP crimes by building, promoting and exchanging knowledge, enhancing cooperation, and carrying out awareness raising and capacity building for judicial and law enforcement authorities across the EU.