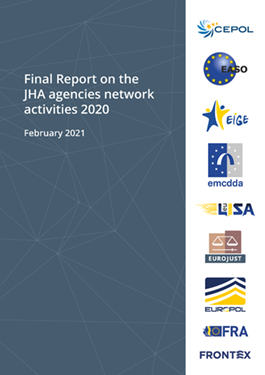 General overview 2020
The Justice and Home Affairs agencies' network (JHAAN) approved its Work Plan 2020 in January and selected two thematic topics: victims of trafficking and an assessment of the JHAAN. In April 2020, COVID-19 pandemic and its impact on the work of JHA agencies was introduced as a new third thematic topic.
The COVID-19 pandemic had an impact on the implementation of the Work Plan 2020 and made meeting via videoconferencing a standard practice. The activities regarding victims of trafficking and the assessment of the JHAAN were put temporary on hold until autumn 2020. Eurojust will lead and finalise the priority topic of the protection of victims of human trafficking in 2021. During its chairmanship in 2021, Frontex will continue the work on the assessment of the JHAAN.
The JHAAN Work Plan also included activities to follow up on the joint statements signed by the Heads of JHA agencies in 2019 on the Charter on Fundamental Rights and on Diversity and Inclusion. The JHAAN further worked on topics of Public Access to Documents, relations with the European Public Prosecutor's Office (EPPO), risk management, the EU Innovation Hub for Internal Security, as well as organised online presentations to raise awareness and to identify potential synergies between the JHA agencies and the networks supported by Eurojust.
Work also continued to increase inter-agency cooperation and explore synergies in areas of common interest, in particular through existing JHA agencies' expert groups dealing with communication, training, ICT and cybersecurity, data protection and external relations.