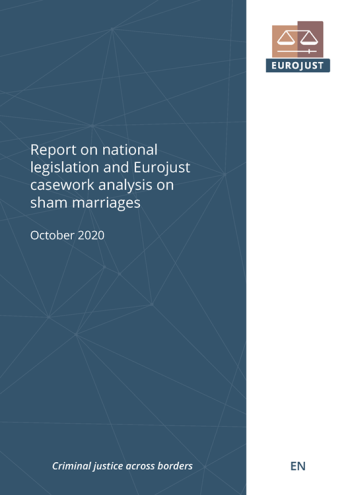 Sometimes people gain unlawful access to the European Union (EU) through a marriage of convenience. Increasingly, such sham marriages are part of sophisticated fraud schemes arranged by Organised Crime Groups (OCGs). The OCGs engage in migrant smuggling and trafficking of human beings on an international scale. They make big profits by luring (mainly) women in vulnerable positions into what seems to be "easy money" but instead traps them in a web of exploitation and abuse.
Sham marriages are also a direct abuse of the fundamental right to freedom of movement within the EU and creates, for instance, unjustified access to the European labour market and social security benefits in the Member States. Since 2012, the European Union has therefore firmly stressed the importance of effective cooperation to tackle marriages of convenience.
This case analysis report, written by Eurojust, the EU Agency for Criminal Justice Cooperation, draws on the practical experiences of sham marriage investigations supported by the Agency between 2012 and 2020.
The executive summary of this report was published on 12 November 2020. A redacted version of the full report was published on 6 April 2021.