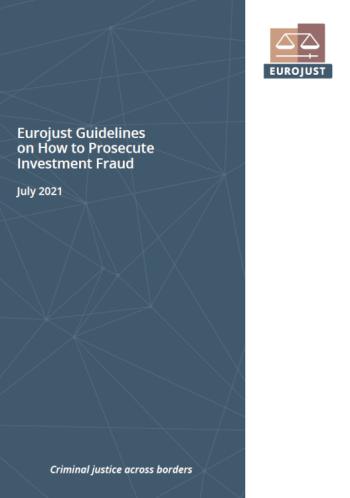 In these guidelines, Eurojust provides an overview of the legal and operational issues that prosecutors may come across and explains how Eurojust and the European Union Agency for Law Enforcement Cooperation (Europol) can help to bring investment fraud prosecutions to a successful end.
The guidelines are primarily based on an analysis of investment fraud cases opened at Eurojust between 2016 and 2020, complemented by experiences shared during discussions with selected Eurojust National Desks.
In Part I of the guidelines, Europol provides information on the phenomenon. Part II outlines the challenges linked to investment fraud cases, while Part III provides practical guidelines on various issues (e.g. on how to ensure successful coordination and cooperation). In Part IV, the support that Eurojust can provide in the different stages of a case is explained. Finally, at the end of these guidelines there is an infographic outlining the fundamentals of investment fraud cases.
See this leaflet (translated into all official EU languages) for a summary of the challenges identified and an overview of the main practical guidelines.