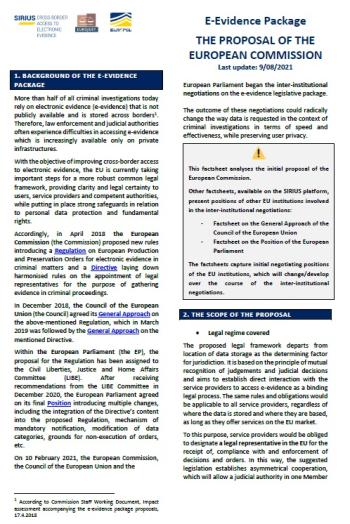 Aiming to improve cross-border access to electronic evidence for the purpose of criminal investigations and proceedings, the European Commission made a proposal for a Regulation on European Production and Preservation Orders for electronic evidence in criminal matters and a Directive laying down harmonised rules on the appointment of legal representatives for the purpose of gathering evidence in criminal proceedings (E-Evidence Package). Following the proposal, in 2021, the European Commission, the Council of the EU and the European Parliament began inter-institutional negotiations, which have reached their final stages.
This document analyses the European Commission's proposal for the E-Evidence Package at the initial stage of the negotiations. It provides information on the background of the E-Evidence Package, the scope of its application, the toolbox that it will offer to competent authorities and its effects on the different actors involved (issuing state, enforcing state, service providers, and users).
The document was prepared within the framework of the SIRIUS Project. The SIRIUS Project has received funding from the European Commission's Service for Foreign Policy Instruments under Contribution Agreement No PI/2020/417-500.