Slovenia will start discussions on its justice agenda for the Presidency of the Council of the European Union with the first physical meeting of the Standing Committee on Operational Cooperation on Internal Security (COSI) in one-and-a half-years' time. Eurojust Vice-President Mr Boštjan Škrlec will participate in this informal meeting in Portorož today and tomorrow, which will focus on combating crime in the digital era, among others. The digitalisation of justice in the EU is one of the priorities for Slovenia and Eurojust.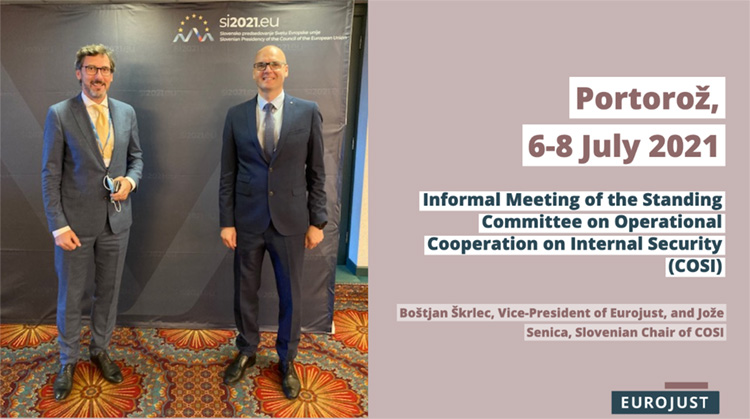 Ahead of the meeting and at the occasion of the start of the Slovenian Presidency, Mr Boštjan Škrlec said: 'For this Presidency of the Council of the EU, Slovenia has an ambitious agenda with regards to justice. We are fully committed to the priorities which have been outlined, in particular, the rolling out of the programme for Digital Justice, and to continue supporting the essential role of the COSI in bringing together all components – including the judicial one – of the internal security chain. It will be a great pleasure, as well, to be able to meet in person all the main actors, and look for ways to enhance even further the excellent cooperation we have been able to maintain during the COVID-19 pandemic.'
Other main agenda points of the COSI meeting are the future of law enforcement collaboration in the European Union, in view of the upcoming Police Cooperation Code and the strengthening of cooperation in the area of missing persons. This particular theme is one of the other priorities of the Slovenian Presidency regarding justice as well as victims' and children's rights.
Slovenia furthermore wants to pay particular attention to the fight against hate speech and hate crime, and the ethical and fundamental rights of artificial intelligence. A further priority is the accession of the EU to the European Convention on Human Rights and the judgment convention.
The digitalisation of the judiciary in the European Union was already the main subject of discussion during a meeting with Slovenian Justice Minister Ms Lilijana Kozlovič at Eurojust two months ago. The European Commission last year tasked Eurojust with implementing the programme for Digital Justice.