Ms Eleni Kouzoupi has taken up her duties today as new National Member for Cyprus at Eurojust. Ms Kouzoupi has had an extensive career in European legal affairs and worked for a long time as Justice and Home Affairs Counsellor at the Cypriot Permanent Representation to the EU. She succeeds Ms Katerina Loizou, the National Member for Cyprus since 2005 who has left to take up the post of Cypriot Prosecutor at the European Public Prosecutor's Office in Luxembourg.
Ms Kouzoupi said: 'I'm very pleased to start in my new role as National Member for Cyprus at Eurojust and look forward to cooperating closely with all the other Member States in combatting cross-border crime. I know Eurojust plays a pivotal role in coordinating judicial cooperation across borders on a practical level and hope my long experience, both in Cyprus and in Brussels at the Permanent Representation, will be of great benefit.'
After concluding her law studies in Athens in 1992, Ms Kouzoupi graduated as a Master in Laws in European Legal Studies and Master in Arts in International Studies at the University of Exeter in the United Kingdom in 1994 and 1995. Following her graduation she worked as a lawyer at a private firm before becoming a Counsel of the Republic of Cyprus in 1997, in which capacity Ms Kouzoupi participated in the negotiations for Cyprus' accession to the European Union.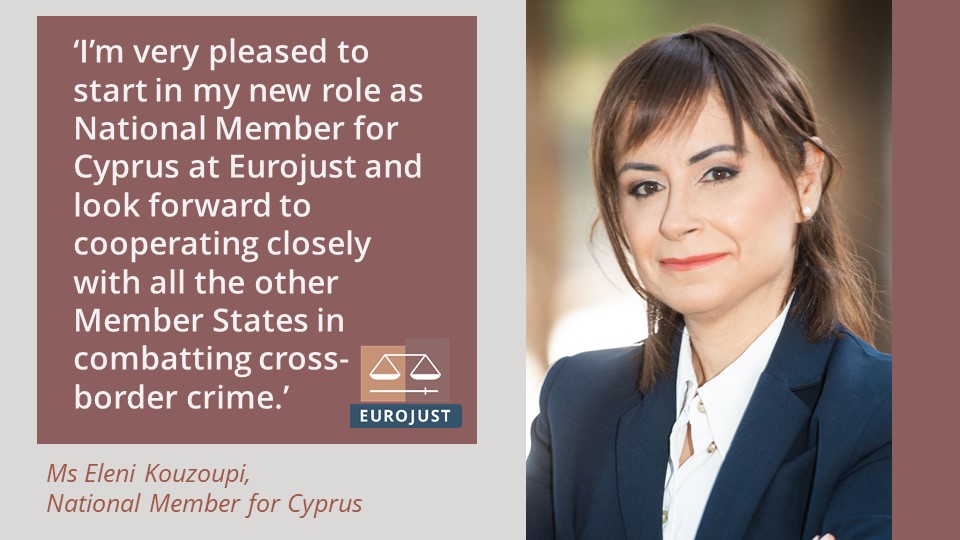 In 2003 she took up the role of Counsellor on Justice and Home Affairs matters at the Cypriot Permanent Representation, where she worked until June of this year, with a short interruption in 2009 when she acted as Counsel of the Republic of Cyprus. During this time, she participated actively in negotiations and developed in-depth knowledge of EU criminal law and expertise in legislation related to asset confiscation and freezing, money laundering, European Investigation Orders (EIO) and the PIF directive.
For this directive, she successfully chaired the EU negotiations during Cyprus' Presidency of the European Union. In 2012, the year when Cyprus held the six-month rotating Presidency, Ms Kouzoupi led the justice team, where she had particular responsibility for securing political agreement on the confiscation directive and market abuse directive. She has recently worked as Counsel of the Republic at the Law Office of Cyprus, where she was involved in legal practice handling litigation and drafting legislation and legal opinions related to EU law.