In a major operation, coordinated via Eurojust, 38 suspects belonging to a large-scale drug smuggling network have been arrested by the authorities in Italy, Albania, Montenegro and Spain. Amongst the arrested persons are representatives of the Albanian law enforcement and judiciary, suspected of corruption and money laundering. The operation is the culmination of an Italian-Albanian joint investigation team (JIT), which in 2018 had been set up and funded with the support of the Agency. In June 2020, 37 arrests took place regarding members of the same organised crime groups (OCGs), and most of them have already received sentences in Italy of up to 20 years.
During the most recent action against the criminal networks, several million EUR worth of cash, 11 properties, four companies in the hotel and tourism sector, and a large plot of land in a seaside resort were seized. The arrested persons are formally suspected of corruption, abuse of office, money laundering and international trafficking of huge quantities of drugs.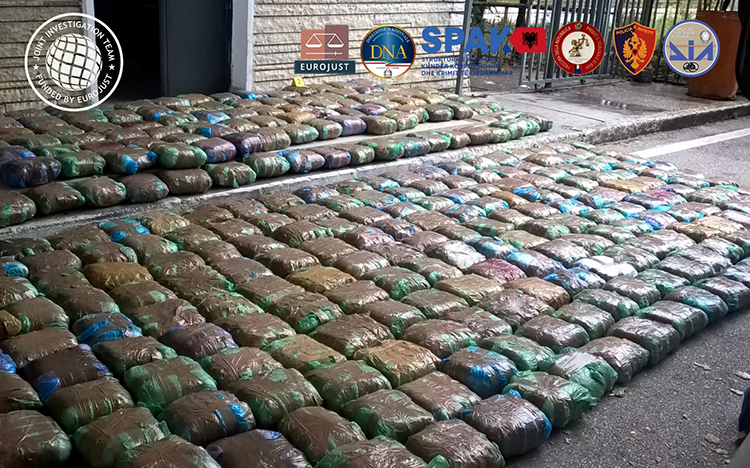 The suspects are linked to four OCGs, with connections to organised crime in and around Bari. As of 2014, they transported large quantities of various illicit drugs from Albanian ports to the Puglia region in Italy, using powerful inflatable small boats. Investigations into the OCG started in 2016 and have since led to the seizure of approximately six tonnes of marijuana, cocaine and hashish, with an estimated revenue of more than EUR 55 million and about 14 million individual doses of illicit drugs.
Eurojust enabled close cooperation between the Anti-Mafia District Directorate (DDA) of Bari and the Special Anti-Corruption and Organised Crime Prosecutor's Office (SPAK) of Tirana, which led to the setting up of the JIT. The investigations were facilitated by the Albanian Liaison Prosecutor at Eurojust, who took up duties in January this year.
Liaison Prosecutor for Albania Ms Fatjona Memcaj said: 'This joint investigation team and its success is a demonstration of the efficiency and synergy between EU Member States and Western Balkan countries in the fight against complex and sophisticated criminal organisations. Albanian judicial authorities are willing to enhance the operational and strategic cooperation, not only with neighbouring countries but also with any other country interested in the fight against transnational crime.'
National Member for Italy at Eurojust Mr Filippo Spiezia stated: 'The setting up of the joint investigation team and collaboration, in this case, is a flagship model for cross-border judicial cooperation. If we can enable this more at EU level, this will speed up the fight against organised crime and money laundering.'