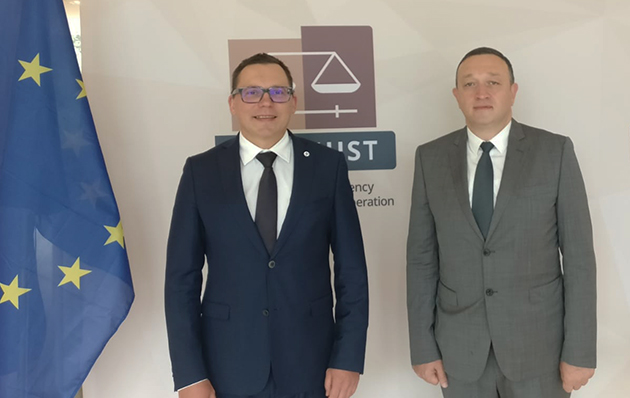 Mr Giorgi Gogadze has this week taken up his duties as first Liaison Prosecutor for Georgia at Eurojust. He was officially appointed in March, following the signing of a Cooperation Agreement between Eurojust and Georgia in May 2019. Previously, Mr Gogadze worked as Deputy Prosecutor General of Georgia in Tbilisi and, between 2013 and 2018, as Deputy Chief Prosecutor. In this capacity, he was responsible for international judicial cooperation.
Mr Gogadze studied law and economics, specialising in finance and banking, in his home country until 2003 and later obtained a business management degree in the United Kingdom at the University Tutorial College in 2008. In 2003, he started his career working for the Service for Coordination with Local Government Bodies and later the Ministry for Agriculture, where he was Head of Unit for European Integration. In 2013, he became Head of the Administration Department of the Investigation Service of the Ministry of Finance of Georgia, before joining the Prosecution Services later that year.
Georgia has been actively cooperating with Eurojust over the recent years. The country was involved in 34 major cross-border investigations since 2015. Liaison Prosecutors can open cases for support from EU Member States and participate in coordination meetings and coordination centres, in order to step up the fight against cross-border crime. Georgia is the eighth country to have a Liaison Prosecutor at Eurojust. The other third States with Liaison Prosecutors are Montenegro, North Macedonia, Norway, Serbia, Switzerland, Ukraine and the USA.
Photo: Mr Giorgi Gogadze (right) being welcomed by Eurojust President Mr Ladislav Hamran. © Eurojust