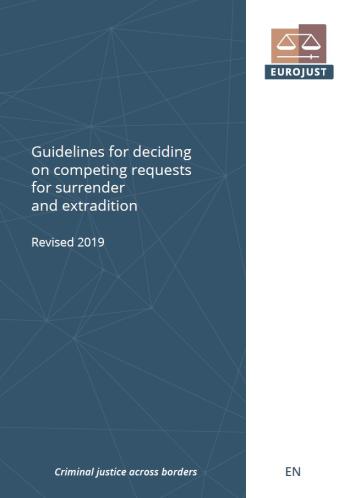 Article 16 of the Council Framework Decision on the European arrest warrant and the surrender procedure between Member States (EAW FD, 2002/584/JHA) regulates the decision-making process for the competent authority of the executing Member State that receives multiple requests for surrender/ extradition of the same person. It covers both the situation of multiple European arrest warrants (EAWs) (Article 16(1) EAW FD) and the situation of conflicts between an EAW and a request for extradition presented by a third country (Article 16(3) EAW FD).
To support the decision-making process in the event of multiple EAWs, Eurojust published guidelines for deciding on Competing EAWs in its 2004 annual report. Since their publication, these guidelines have assisted the competent national executing authorities in taking informed decisions on competing requests for surrender/extradition. Eurojust has also regularly referred to these published guidelines when providing guidance to national authorities on this matter.
The guidelines distinguish different scenarios and suggest factors that must be given due consideration before the executing authority takes a decision on which of the requests it shall execute. The guidelines include the factors mentioned in Article 16 EAW FD, but complement and develop these factors further in light of different scenarios.
Over the past 15 years EU law has significantly evolved in the area of freedom, security and justice, including following developments in the case-law of the Court of Justice of the European Union (CJEU). Moreover, in 2017, the European Commission published its Handbook on how to issue and execute a European arrest warrant1, which also addresses the scenario of multiple EAWs and/or extradition requests concerning the same person. Eurojust has also acquired valuable operational experience in the context of competing requests for surrender/extradition.
Against this background and with the aim of ensuring effective and full support to practitioners, Eurojust publishes herewith a revised version of the guidelines. The revised guidelines enlarge the scope of the original guidelines by including scenarios not only for Article 16(1) but also for Article 16(3). Moreover, these revised guidelines further develop the factors to be used in the decision-making process. They also address coordination and follow-up measures that could be relevant before and after the executing authority decides on which of the requests it will execute.
The guidelines are a flexible tool to guide and remind the competent authorities of the factors they can consider when deciding which request to execute. They provide a shared starting point in view of reaching an informed decision. The guidelines do not constitute binding rules and are without prejudice to applicable, national, EU and international law.