Eurojust welcomed today the European Data Protection Supervisor (EDPS), Mr Wojciech Wiewiórowski. On his first official visit to the Agency, Mr Wiewiórowski underlined the importance of accountability and transparency in dealing with personal data, as the right to data protection is one of the fundamental human rights. By becoming an official EU Agency with the application of both the Eurojust Regulation and Regulation 2018/1725 on 12 December 2019, a new data protection regime was introduced.
Eurojust President Mr Ladislav Hamran stressed the significance of this step: 'One of the most important changes brought about by the Eurojust Regulation is the new legal framework in the field of data protection. Eurojust and the European Data Protection Supervisor will be working closely together in upholding the highest possible data protection standards. It was an honour to welcome Mr Wiewiórowski to a meeting of Eurojust's College and discuss how we can most effectively shape our cooperation.'
Mr Wojciech Wiewiórowski said: 'Strong cooperation between the EDPS and Eurojust is essential in order to truly understand the character of Eurojust's work and to ensure better protection of fundamental rights. We are happy to exchange views with the College of Eurojust as it is crucial to build a constructive and forward looking dialogue with those who work at the heart of Eurojust's activities.'
Eurojust treats data protection very seriously, with full respect for the fundamental rights of all individuals. Working on the frontline of investigations and prosecutions, the Agency comes into regular contact with operational personal information. On a more general level, Eurojust processes various categories of personal data as part of its daily administrative activities. By applying the highest standards in data protection the Agency ensures that all information is handled with the greatest of care, ensuring that the rights of individuals are fully protected at all times.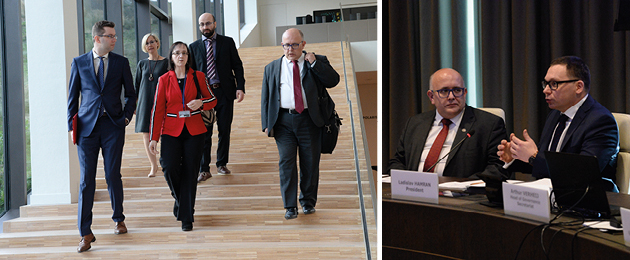 Photos © Eurojust