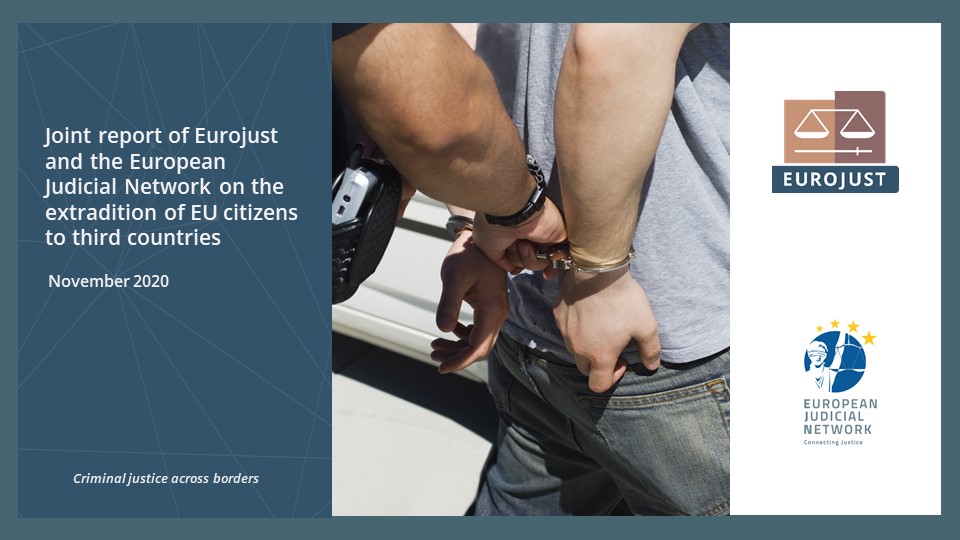 Eurojust and the European Judicial Network (EJN) have published their joint report on the extradition of EU citizens to third countries. It confirms that application of the case-law of the Court of Justice of the European Union (CJEU) on the extradition of EU citizens raises several practical and legal issues, and that Eurojust and the EJN continue to play an important role in facilitating cooperation between the Member States involved, and sometimes also with third countries. The report identifies the most relevant issues and gives recommendations, where possible.
In September 2016, the Court of Justice of the European Union rendered a judgment in the Petruhhin case, subsequently confirmed in case-law, on the issue of extradition, where an EU Member State is faced with an extradition request from a third country concerning a citizen of another EU Member State. In its judgement, the CJEU introduced an obligation to carry out a consultation procedure between the requested Member State and the Member State of nationality of the EU citizen, thus giving the latter the opportunity to prosecute its citizen. Application of the case-law has proved difficult in practice, and in June 2020, the Council invited Eurojust and the EJN to analyse the reasons.
The main issues identified are the following:
uncertainty about which authority to approach in the Member State of nationality, which Member State should deal with and bear the costs of translation, and/or which judicial cooperation instrument is best applied to ensure prosecution in the Member State of nationality;
different practices related to the extent of information provided to the Member State of nationality, deadlines given for replies and decisions, and types of assessments carried out;
tensions between obligations under EU law on the one hand, and bilateral and multilateral extradition treaties on the other; and
the existence of several parallel channels used to inform and transmit information between the Member States involved, often leading to duplication of effort, uncertainty and confusion.
A detailed explanation of these practical and legal issues as well as the recommendations derived from the analysis can be found in the report. One of the central conclusions is that both Eurojust and the EJN play a key role in facilitating and supporting the consultation procedure and in assisting the national authorities in overcoming these issues.
Read more in the full report  or consult this one-pager  for a quick overview.