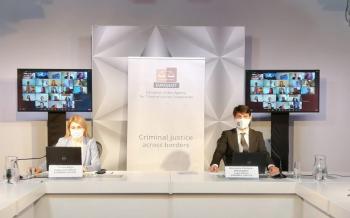 The EuroMed Justice (EMJ) Programme, hosted at Eurojust, has officially been launched with an opening conference in The Hague on 2 and 3 February. Participants from all eight involved South Partner Countries (SPCs)*, EU Member States and agencies joined the conference via video connection to mark the official start of the new stage of the programme. EMJ has the overall aim to strengthen strategic and operational cooperation in judicial criminal matters in the Euro-Mediterranean region.
During the launching conference, participants and partners were introduced to the EMJ Programme, including the main activities to be organised, expected results, working methodologies and events calendar. Planned events include the EuroMed Forum of Prosecutors-General and regular meetings of the Criminal Matters Experts Group (CrimEx).
As well as delegations of the SPCs and EU Member States, participants included representatives of the European Judicial Network (EJN), the European Commission, Europol, the European Union Agency for Law Enforcement Training (CEPOL), the Council of Europe, the United Nations Office on Drugs and Crime (UNODC), the United Nations Counter-Terrorism Committee Executive Directorate (CTED) and the International Association of Prosecutors (IAP).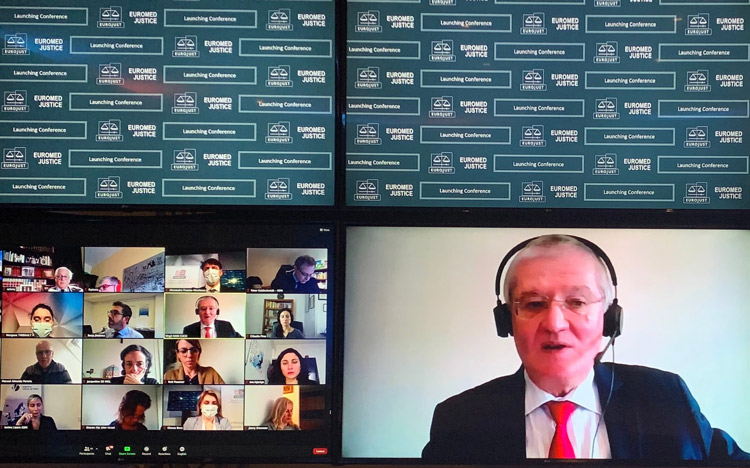 During the launching conference, particular attention was paid to the enhancement of the cross-border exchange of judicial information and the digital transmission of evidence. The participation of SPCs in joint and parallel investigations was another main theme.
As the European Union Agency for Criminal Justice Cooperation, Eurojust has hosted and implemented EMJ since May 2020. The programme aims to strengthen cooperation in judicial criminal matters among SPCs, between these countries and EU Member States, and with EU judicial cooperation instances. Furthermore, it focuses on capacity building in cooperation with the SPCs and assists in working towards a long-term regional cooperation mechanism.
The EUR 5 000 000 EMJ programme is funded by the Directorate-General for Neighbourhood and Enlargement Negotiations (DG NEAR) and implemented by Eurojust throughout a dedicated programme management team in close cooperation with the Commission's Directorate-General for Justice and Consumers (DG JUST).
* Southern Partner Countries: Algeria, Egypt, Israel, Jordan, Lebanon, Libya, Morocco, Palestine** and Tunisia
** This designation shall not be construed as recognition of a State of Palestine and is without prejudice to the individual positions of the Member States on this issue.