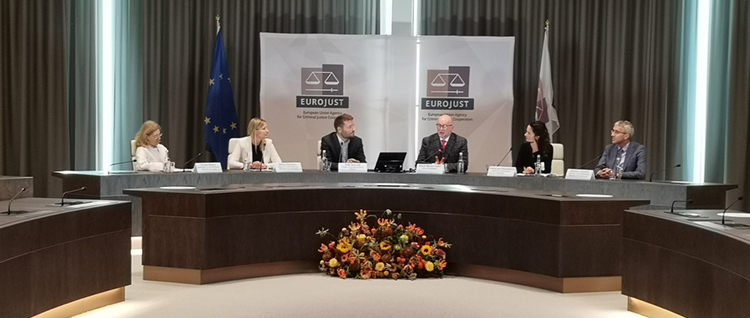 On 8 October 2021, Eurojust welcomed visitors from all over the European Union and beyond to the second edition of its Virtual Open Day. More than 350 people from 40 countries had registered for the event. It was part of the Just Peace Month, an initiative of the Municipality of The Hague to highlight the important work of international organisations and their contribution towards global peace, justice and freedom.
---
Session 1
In line with the 2021 motto 'The human stories of peace and justice', the first session featured a very personal talk with a Eurojust colleague who managed to overcome several challenges during her career. She explained what made her so passionate about pursuing justice and why Eurojust is a workplace like no other.
---
Session 2
In the second session, a panel of experts from the dedicated Eurojust crime teams discussed how judicial cooperation works in practice. Terrorism, trafficking in human beings, economic crimes, cybercrime – the challenges in fighting these crime types are as different as the crime types themselves. Our experts explained how Eurojust supports and coordinates the work of national authorities and why this helps in making Europe a safer place.
---
Session 3
The third session focused on career opportunities and the different job profiles Eurojust is looking for. The Administrative Director and the Head of the Human Resources Unit presented the benefits of working for the Agency and answered a wide range of questions from the audience. For more information about career opportunities at Eurojust, please visit the dedicated section on our website.
---

Behind the scenes