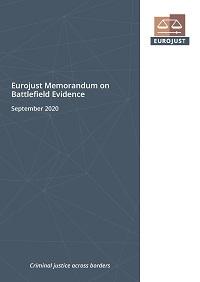 The 2020 Eurojust Memorandum on Battlefield Evidence reports on the present possibilities and experiences of using battlefield evidence in criminal proceedings in the EU Member States and non-EU countries. This report was produced following a recommendation from the EU Counter-Terrorism Coordinator to update the first edition of the Eurojust Memorandum on Battlefield Evidence, which was published in June 2018. These reports are part of the European Union's efforts to strengthen information exchange in the field of counterterrorism, which include getting access to battlefield information and using it in investigations and prosecutions.
The report is based on replies to a questionnaire sent to national judicial authorities. It sets out the applicable legal framework and gives an overview of how battlefield information is obtained from military forces and other actors. The experiences of national authorities in using battlefield information as evidence are examined, as are the categories of battlefield evidence referred to by respondents. While the 2018 Eurojust Memorandum on Battlefield Evidence reported limited experiences of using battlefield evidence, the 2020 report shows that, during the past few years, several countries have used such evidence in their criminal proceedings against foreign terrorist fighters and other persons suspected of criminal offences during armed conflicts. The report also addresses challenges identified and ways to overcome them, as well as measures to strengthen information exchange.
Among the concluding remarks is an expression of Eurojust's continued engagement in this field. Eurojust will continue to facilitate exchanges of national experiences in terrorism and core international crimes cases and is committed to continued collaboration with Europol on these topics. Eurojust will also seek to continue its cooperation with the US authorities on battlefield information in a joint effort to enhance the use of such information as evidence in criminal proceedings.