At today's High-level Conference on the EU Strategy on Victims' Rights, organised by the European Commission together with the German Presidency, Eurojust's Vice-President, Mr Klaus Meyer-Cabri, announced that Eurojust is stepping up its engagement for victims' rights and will take an active part in the new Victims' Rights Platform. The platform is an important deliverable following the adoption of the first EU Strategy on Victims' Rights earlier this year. The partners of this platform, which include the European Network on Victims' Rights, the EU Network of National Contact Points for Compensation, the EU Counter-Terrorism Coordinator, Eurojust, the European Union Agency for Fundamental Rights and civil society, will serve as an important forum for discussions on victims' rights with all relevant actors.
Vice-President Meyer-Cabri said: "The interest of victims of crime is at the heart of every criminal investigation. Safeguarding their rights and positions can be particularly challenging if the crime is of a cross-border nature. Victims of human trafficking are often reluctant to provide evidence or testify at trial, because they fear retaliation from members of organised criminal groups. They also need support in dealing with the physical and emotional harm they have suffered. Victims of terrorist attacks and their families often face great difficulty in safeguarding their rights to remediation, legal assistance and compensation. Victims of cybercrime may suffer major economic loss but may not be located in the same jurisdiction as where perpetrators have committed the crime. Eurojust has long-standing experience in successfully overcoming any cross-border challenges and will use that very experience in more pronounced ways in the interest and service of victims of cross border crime."

Background: Eurojust's support to victims' rights in criminal investigations
In 2019, Eurojust supported over 8 000 criminal investigations that delivered justice for over 21 000 victims of all forms of serious, cross border crime. The interest of victims is one of the factors that Eurojust considers when advising Member States on judicial issues, such as in the case of parallel proceedings or conflicting European Arrest Warrants/extradition requests.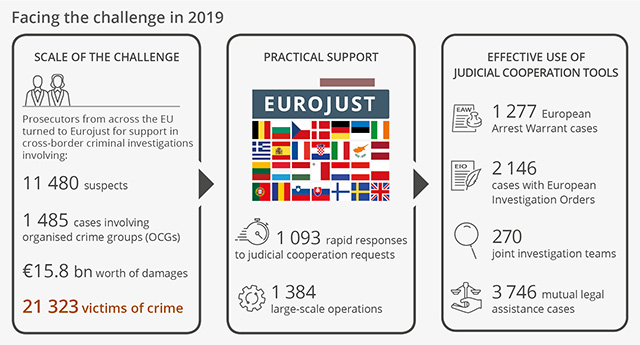 Major Eurojust cases in recent years that focused on the position of victims include:
The investigation following the crash of the Germanwings Flight 9525 in 2015, which killed 150 people from 19 countries. Eurojust's assistance focused on helping family and relatives across Europe to identify the victims. Through the appointment of special contact points in all Member States involved, the victims and their families were supported to ensure their rights.

The terrorist attacks in Barcelona and Cambrils in 2017, which affected victims of 34 nationalities. Eurojust immediately sprung to action and helped Spanish authorities quickly prepare and transmit a special template, which explained the assistance foreign victims and their families were entitled to under Spanish law, their procedural rights and rights to compensation in a simplified and understandable manner. For more information, please see Eurojust's factsheet on the support to judicial authorities in the fight against terrorism.