Eurojust is improving the exchange of information and its communication with judicial authorities in Latin America, via broader access to the Iber@ Secure Communication System. IberRed, the Ibero-American Network of International Legal Cooperation, and Eurojust have signed an Implementing Arrangement to their 2009 Memorandum of Understanding (available in all official EU languages here), which will open up the system to all National Desks in The Hague. This enables safe and real-time communication with the contact points of IberRed in Latin America, who are experienced judges, prosecutors and central authorities with competence in international legal cooperation matters in their countries.
Eurojust President Mr Ladislav Hamran said: 'Big criminal networks are increasingly operating on a global basis. To combat these networks, prosecutors and judges must also cooperate globally, and that is where this agreement comes into play. It will improve our already excellent cooperation with IberRed and ensure the exchange of crucial information will happen more directly and rapidly. This is essential in the fight against international organised crime.'
IberRed Secretary General Mr Enrique Gil Botero stated: 'Nowadays, information and communication technology and networking are the best formulas and strategic allies for justice in fighting organised transnational crime. In particular in the global context of COVID-19, Iber@ facilitates the partnership of Eurojust and IberRed through instantaneous exchange of information on a secure platform, allowing competent authorities to be more efficient in cross-border cooperation.'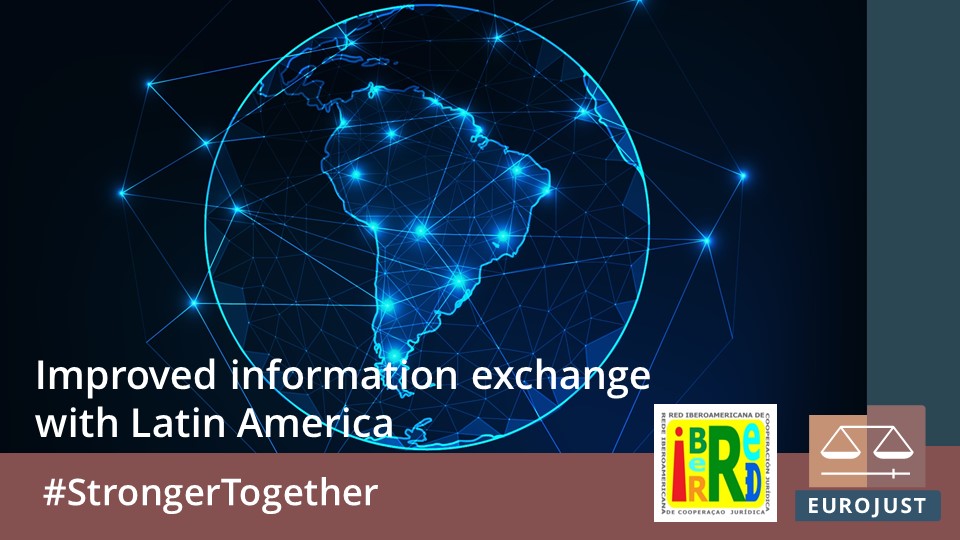 The Iber@ Secure Communication System is a tool developed by the General Secretariat of IberRed in Madrid. It aims at facilitating the exchange of information between the members of the IberRed network and other international cooperation networks. The agreement with Eurojust establishes a regulatory framework for the use of Iber@ in full respect of the terms and conditions of the Memorandum of Understanding.
Eurojust and IberRed signed a Memorandum of Understanding (MoU) in 2009, establishing effective cooperation with Latin American judicial authorities. Since the entry into force of this MoU, both parties have regularly evaluated their cooperation. The signature of this Implementing Arrangement on the use of the Iber@ Secure Communication System was announced during the VIII IberRed Plenary Meeting, which was held in Madrid from 28 to 30 October 2019 with the participation of Eurojust's contact point to IberRed, Mr. Francisco Jiménez-Villarejo, National Member for Spain.