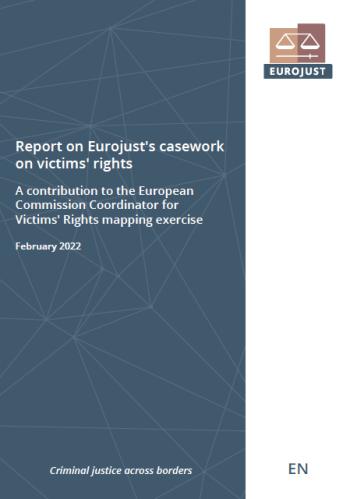 This report draws on the experience gained by the European Union Agency for Criminal Justice Cooperation (Eurojust) in relation to victims' rights. Based on Eurojust casework and using case examples, the report identifies challenges faced by practitioners and presents solutions and best practices to overcome them.
In 2021, Eurojust set up a dedicated working group to bring together the agency's expertise in this field. The main objectives of the working group are: (i) to promote more systematically the victims' rights dimension in the prosecution strategies discussed and agreed upon with Eurojust's support; and (ii) to ensure an effective and informed contribution to the the European Union's strategy on victims' rights and to the activities of the EU Victims' Rights Platform, of which Eurojust has been a member since its establishment in 2020.
Crime types such as THB, fraud, terrorism or cyber-enabled crimes each have their specificities and call for a tailored-made response to best identify and protect the victims. The report presents the main challenges (Section 1) and the best practices identified to overcome them (Section 2).