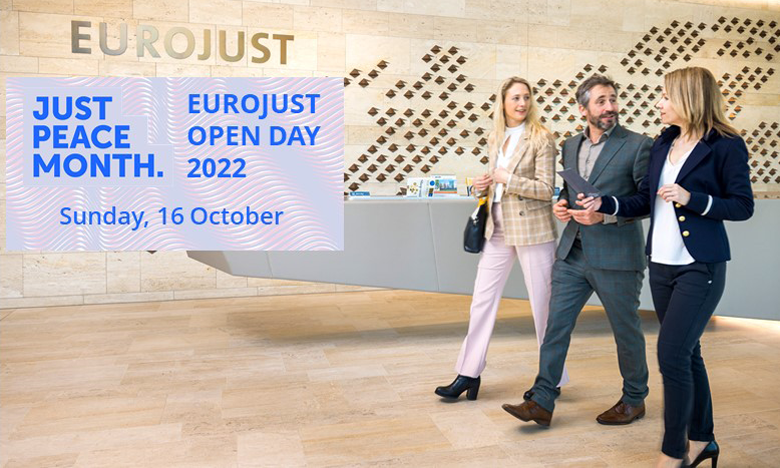 On Sunday 16 October, Eurojust invites you to its Open Day. Join us to gain unique insights into the work of the European Union Agency for Criminal Justice Cooperation at our headquarters in The Hague.
This event is part of the Just Peace Month, an initiative of the Municipality of The Hague to highlight the important work of international organisations and their contribution towards global peace, justice and freedom.
After two years of virtual Open Days, we are happy to be finally able to invite visitors back to our building in the heart of the International Zone in The Hague. For those who cannot make it in person, we will offer a dedicated website with a wealth of information and videos specially produced for this occasion, as well as the opportunity to listen live to the presentations via Twitter Spaces.
Visit us
On 16 October, we will welcome pre-registered visitors in groups. Registration closed on 13 October.
If you did not register, you can still take part in the virtual version of our Open Day! Listen to the live presentations on Twitter Spaces at 10.00, 11.30, 13.00 and 14.30 (approximate times). Please follow @Eurojust on Twitter and watch out for the purple circle around Eurojust's logo to appear around these times. When you click on it, you will be joining our live presentation as a listener.
An experienced prosecutor will give each group a presentation about our work in fighting cross-border crime and terrorism – this is your chance to learn first-hand how our Agency helps to make Europe safer.
We will also open our virtual doors on 16 October. On that day, you will find the link to the dedicated event web page on the Eurojust website and on our social media channels Twitter and LinkedIn. The page will give you access to plenty of information about our Agency, including a number of online talks about, for instance, our work against cybercrime or the challenges of prosecuting core international crimes.
Discover more
If you would like to know what our Eurojust Virtual Open Days in recent years looked like, we have compiled summaries of the 2020 and 2021 events, including videos of the sessions, behind-the-scenes pictures and a Q&A about our work.
For more information about career opportunities at Eurojust, please visit the dedicated section on our website.
If you would like to get a first impression of our premises in The Hague and the way we work, join us on our Eurojust Virtual Tour: