Joint investigation teams (JITs) are a vital cooperation tool for judicial and police authorities, and funding is essential to avoid the extra costs incurred by the national authorities in fighting complex cross-border crime. Both Eurojust and Europol can provide funding for JITs, and avoiding double-funding and facilitating applications for funding are essential.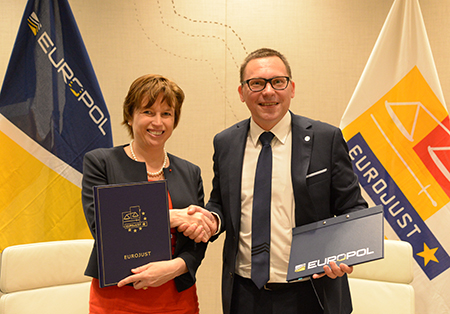 On 1 June, the newly appointed Executive Director of Europol, Ms Catherine De Bolle, and the President of Eurojust, Mr Ladislav Hamran, signed a Memorandum of Understanding to ensure even closer cooperation between the two organisations by establishing the rules and conditions for the benefit of those requesting funding from the national authorities.
On 6 and 7 June, the 14th annual meeting of the national experts on JITs will be held at Eurojust, during which the main provisions of the Memorandum of Understanding will be introduced to the attendees for transparency and clarity in the funding procedure.
Links:
JITs Network Secretariat